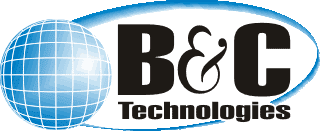 PS SERIES SHEET FOLDER AND STACKER
1, 2 OR 4 LANE, WITH OR WITHOUT CROSSFOLDING
The PS Folder and Stacker from B&C Technologies offers high quality construction with a simple design for ease of use. Service is easy – common components are used and our simple design utilizes fewer parts. Fewer parts means less breakdowns and more productivity. The powerful controller is fully programmable and includes built in diagnostics for easy troubleshooting and repair. Easy programming leads to perfect results time after time. The B&C folder can be configured with 1, 2, or 4 lanes with two primary folds and optionally three cross folds. Combine this reliable folder with the labor saving B&C Stacker for greater productivity. The stacker creates stacks of folded goods and the conveyor takes the goods to either the front or the rear of the machine. Simple to operate, built to last and easy to afford.
Click below for more information:
Request a Quote
Please fill out the form and a salesperson will be in touch with you soon. We strive to fulfill requests as quickly as possible.